北京高压科学研究中心


Center for High Pressure Science &Technology Advanced Research
Welcome to
Collaborative Research for Earth and Applied Materials (CREAM)


News and updates:



7. 09/08/2017, 'When Water Meets Iron at Earth's Core-mantle boundary' is published by National Science Review.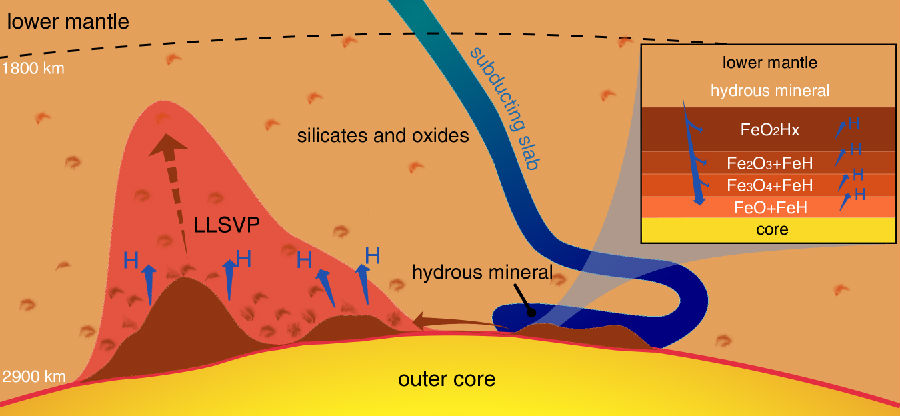 In this work, we establish chemical reactions between any iron-oxides and water at core-mantle boundary condtions. The formation of py-phase from water and the inexhaustive core iron leaves a giant mantle oxygen reservior and will lead to the long-term chemical instability of the earth. H.-k. Mao, Q. Hu, L. Yang, J. Liu, D.Y. Kim, Y. Meng, L. Zhang, V.B. Prakapenka, W. Yang and W.L. Mao. Natl. Sci. Rev. DOI: 10.1093/nsr/nwx109 (2017).
6. 08/22/2017, 'Hydrogen Bond Symmetrization Breakdown and Dehydrogenation Mechanism of FeO2H at High Pressure' is published by JACS.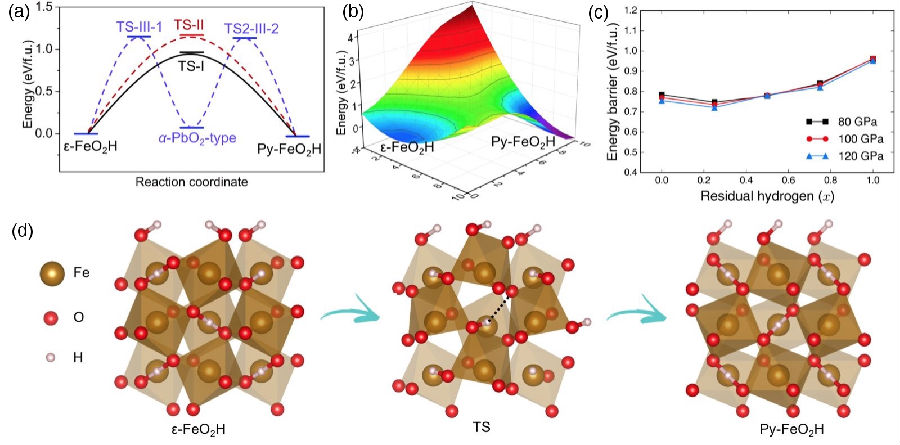 The work combines simulation and experiment to report the transition and dehydrogenation mechanism of FeO2H under high pressure. S. Zhu, Q. Hu, W.L. Mao, H.-k. Mao, H.W. Sheng. J. Am, Chem. Soc. 139, 12129-12132 (2017).

5. 08/21/2017, an invited talk 'Formation of FeO2 at high pressure and Earth's oxygen cycling' was presented at AIRAPT 26, Beijing.
The talk was given by Dr. Wenge Yang, who shows our previous work on the synthesis of FeO2 at Earth's mantle condition and how it can influence the cycling of elements in Earth's interiors.
4. 05/24/2017, Co-authored paper 'Structural evolution behavior of manganese monophosphide under high pressure: experimental and theoretical study' is published by JPCM.
This is a collaboration work with Dr. Zhenghai Yu and Dr. Lin Wang at HPSTAR. The paper report the structural evolution of MnP up to near megabar pressure. J. of Phys.: Condens. Matter, 29, 254002 (2017).
3. 03/31/2017, 'Stability limits and transformation pathways of α-quartz under high pressure' is published in PRB.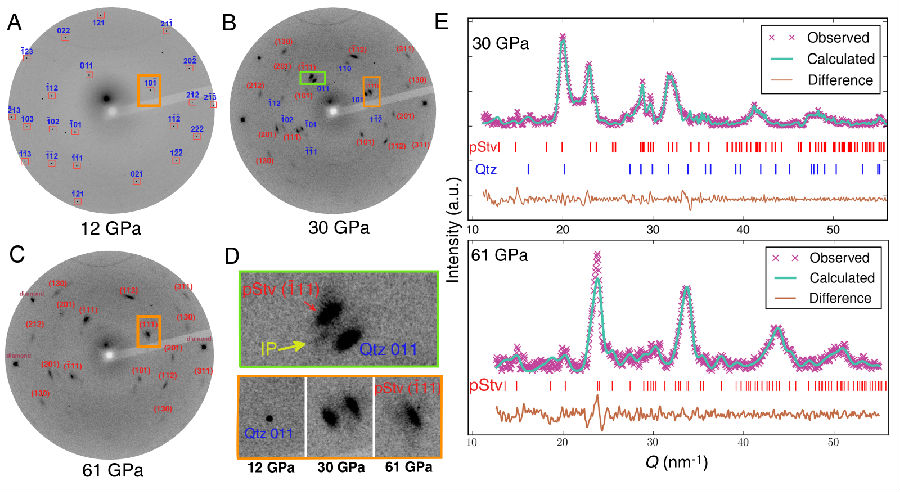 In this work, the authors report two distinct high-pressure transition mechanism for quartz silica. In experiments, quartz follows a thermal activated pathway to a Si-O six-coordinated phase. Our simulation predicts under low-tempearture condition, quartz will transit to a metastable structure with oxygen b.c.c lattice induced by phonon instability. Q. Hu, J-F. Shu, W. G. Yang, C. Park, M. W. Chen, T. Fujita, H.-k. Mao, H. W. Sheng. Phys. Rev. B 95 104112 (2017).
2. 03/13/ 2017 Dr. Hu contributed a talk 'Discovery of pyrite-structured FeO2 at high pressure' at American Physical Society March Meeting, New Orleans, LA.
In this talk, Dr. Hu used recent experimental and simulation results to depicts how hydrogen and oxygen are seperated and cycled in Earth's interiors.
1. 02/01/2017, 'Dehydrogenation of goethite in Earth's deep lower mantle.' is published in PNAS.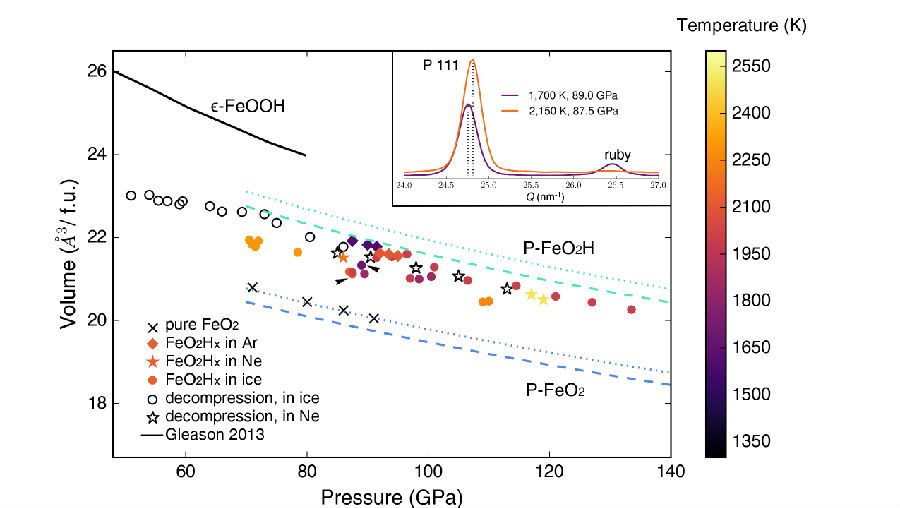 In this study, the authors quantify the decomposition reaction of FeO2H to FeO2Hx and hydrogen and introduced how the release of hydrogen will rock redox equilibria at the bottom of Earth's mantle. Q. Hu, D.Y. Kim, J. Liu, Y. Meng, L. Yang, D. Zhang, W.L. Mao, H.-k. Mao. Proc. Nat. Acad. Sci. U.S.A. 114, 1498-1501 (2017).
Highligh by Nature Review Chemistry.
Highligh by Geochemistry News, HPCAT and GL