北京高压科学研究中心


Center for High Pressure Science &Technology Advanced Research
3.3 TAO Renbiao, Zhang Lifei
Petrological and experimental study of crust-mantle carbon exchange in subduction zone
Renbiao Tao1,2, Lifei Zhang1, Cheng Xu1, Xi Liu1, Yingwei Fei1,2
1The MOE Key Laboratory of Orogenic Belt and Crustal Evolution, School of Earth and Space Sciences, Peking University, Beijing 100871, China
2Geophysical Laboratory, Carnegie Institution of Washington, Washington, DC 20015, USA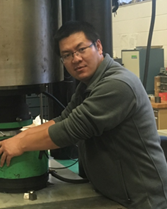 Subduction zone is considered as a factory for crust-mantle matter exchange. Recycling of carbon-bearing phases significantly affects the chemical and physical properties of mantle rocks. In the past years, we investigated the crust-mantle carbon exchange behavior in the subduction zone using different research methods. Carbon bearing phases in meta-ophiolites (e.g. marble and carbonate eclogite) from S.W. Tianshan UHP subduction zone, and subduction-related eclogite xenoliths in carbonatite from North China, have been petrologically and geochemically characterized. Based on the petrological observations, we designed and carried out a serial of high-pressure and high-temperature experiments to study the phase transition of these carbon-bearing rocks. In combination of petrological and experimental study, we addressed several scientific issues on deep carbon cycle in the subduction zone.
In meta-ophiolites from S.W. Tishan subduction zone, carbonates (dolomite and magnesite) always contains higher Fe contents than that from other metamorphic zones. Fe substation in carbonates has big effect on the stability of Fe-bearing carbonates at high-pressure and high-temperature conditions. Carbonate separated from carbonated eclogite shows mantle-like Mg, C, and O isotopic characteristics, indicating most of their carbon stems from Earth's mantle. Marble shows sedimentary carbonate-like Mg, C, and O isotopic characteristics, indicating recycling of this marble should play a key role in modifying mantle isotopic (C and Mg) compositions. Both petrologic and geochemical studies show that there are two different sources of recycled carbon in the S.W. Tianshan subduction zone. Low oxygen fugacity (< FMQ - 2.5) of S.W. Tianshan subduction zone was constrained using garnet-omphacite oxy-barometer and reduction structure of Fe-bearing dolomite to calcite, magnetite and graphite. Combining high-pressure experimental simulation, we proposed these ubiquitous graphite and hydrocarbon in metamorphic rocks from S.W. Tianshan subduction zone may formed from reduction of Fe-bearing carbonates at relatively reduced conditions in subduction environment.
In eclogite xenoliths of carbonatite from North China Craton, some unique Fe3+ rich majoritic garnet inclusions were discovered. Based on our newly calibrated Fe3+ rich majorite barometer, the origin of these Fe3+ rich majoritic garnet was constrained as deep as mantle transition zone. The host carbonatite has sediment-derived C isotope and enriched initial Sr-Nd isotopes, indicative of ocean-crust involvement. We further experimentally investigated the formation mechanism of those Fe3+-bearing majorite. Oxygen fugacity controlled experiments and carbonation experiments show the carbonation of mantle rocks is an important formation mechanism of these those Fe3+-bearing majorite, accompanying with formation of diamond in deep mantle. We also propose that the recycled carbonate is a significant agent to oxidized the Earth's upper mantle during crust-mantle carbon exchange in subduction zones.