北京高压科学研究中心


Center for High Pressure Science &Technology Advanced Research
Prof. Yongjae Lee [Yonsei University, Korea]
Title: Construction of Max-X (Matter in eXtreme conditions X-ray) beamline at Pohang Accelerator Laboratory

Time: 2:00 - 3:00 PM, Tuesday, July 12, 2016
Place: Auditorium Room 410, HPSTAR (Shanghai)
Host: Dr. Hengzhong Zhang
Abstract:
PAL (Pohang Accelerator Laboratory) is the sole synchrotron facility in Korea established in 1995. A major upgrade has been completed in 2012 to 3 GeV and 8 nm rad. capabilities with 20 insertion device sections. PAL currently operates 32 beamlines while a few are left for construction to pursue future impactful sciences. Concerted efforts have been made to deliver the case for high pressure and extreme condition sciences to be implemented at the last remaining wiggler port. The current consortium for the construction of Max-X (Matter in eXtreme conditions X-ray) beamline proposes instrumentations to study complex crustal and mantle minerals using high-resolution XRD and TXM, synthesis of high-density materials and extended solids using laser-heated DAC, phase transition under dynamic compression conditions, and micro structural and spectroscopic analysis involving rare earth elements. Design and instrumentation of the Max-X beamline will also reflect the need of the international high pressure community to be both complementary and unique. Our current usages of PAL beamlines and a model case of a part-time high pressure beamline development at Stanford Synchrotron Radiation Lightsource (SSRL) will also be presented.
Biography of the Speaker: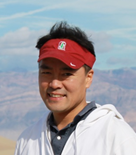 Yongjae Lee is a professor at the Department of Earth System Sciences at Yonsei University, Seoul, Korea. Professor Lee received his Ph.D. in Geosciences in 2001 from State University of New York at Stony Brook and worked as a postdoc and a staff scientist at the Department of Physics at Brookhaven National Laboratory until he joined in Yonsei University in 2005 as an assistant professor. His research interests include high pressure crystallography of porous materials and complex crustal minerals under moderate PT conditions utilizing various synchrotron techniques. Professor Lee is a PI of Global Research Laboratory (Est. 2009) and National Research Laboratory (Est. 2015) programs by the Korean Government and an associate member of Korea Academy of Science And Technology (KAST). He received Alvin van Valkenburg Award in 2002, Sidhu Award in 2002, and Sim-Gye Science Award from Pohang Accelerator Laboratory in 2014. Recently, he joined HPSTAR as an adjunct staff scientist with Foreign 1000 Talent Award.