北京高压科学研究中心


Center for High Pressure Science &Technology Advanced Research
Prof. Isaac F. Silvera visits HPSTAR
Professor Isaac F. Silvera (Ike), the Thomas D. Cabot Professor of the Natural Sciences of Physics Department at Harvard University, is visiting HPSTAR from April 26 to May 26, 2015. He is giving a series of four seminars.

On April 28, Prof. Silvera presented a talk titled "A First-order Phase Transition to Metallic Hydrogen", which is one of the most intriguing topics in condensed matter physics.
During the seminar, Prof. Silvera talked their recent discovering of "plasma phase transition on hydrogen", discussed how they challenge the difficulties in "hydrogen diffusion into diamond at high-pressure and temperature." Prof. Silver also emphasizes that "we should not just focus on pressure in high-pressure experiments, density is what we should really concern."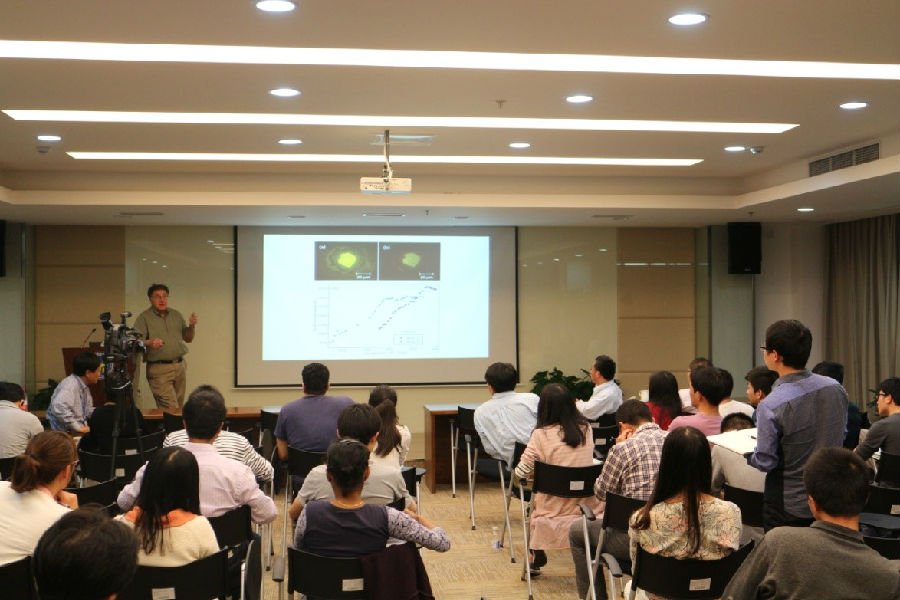 Prof. Silvera will give three additional lectures during this visit at HPSTAR. The titles are as follows. Their schedule will be announced later.

"High Pressure Phase Transitions in the Solid Hydrogens at Low Temperature" - Lecture 2
"The Nuts and Bolts of High Pressure Physics" - Lecture 3
"The Physics of Compression: It's Not the Pressure, It's the Density" - Lecture 4
"Professor Silvera is also an excellent teacher, You will be getting Harvard education in China," HPSTAR director Ho-Kwang Mao remarked. "Welcome to the seminars!"
-------------------
Prof. Silvera is a world leader in high-pressure quantum physics. He pioneered the high-pressure hydrogen research. His classical 1980 Review of Modern Physics paper on dense molecular hydrogen, in effect, kicked off hydrogen research in DAC, and his continuous efforts including the most recent pulsed laser heating studies, have defined the high-temperature hydrogen melting and liquid-liquid metallization transition above Mbar pressures.