北京高压科学研究中心


Center for High Pressure Science &Technology Advanced Research
Director Ho-kwang Mao Visited Tsinghua University
On January 9th, 2015, Director Ho-kwang Mao visited Tsinghua University and gave a seminar lecture entitled "High Pressure - A New Dimension in Physical Sciences", as the 170th seminar of Tsinghua Global Vision Lectures. The seminar was in Tsinghua reception hall and hosted by Prof. Zhuo Zhuang of the School of Aerospace Engineering. About 100 professors and students from the School of Aerospace Engineering, the Department of Physics, the Department of Chemistry and the School of Materials Science and Engineering attended this talk.
In the lecture, Dr. Mao introduced the development of high pressure science and Center for High Pressure Science & Technology Advanced Research (HPSTAR). He highlighted the high pressure as a new dimension that will have a revolutionary impact on many fields such as physics, chemistry, materials science, geosciences, nano scienceetc. High pressure science and technology will bring new opportunities for the advances of material science in China. During the lecture, Dr. Mao had deep discussions with the attendees. The discussion lasted about half an hour. Many questions regarding high pressure technology, high pressure science and multidisciplinary collaboration were discussed. At the end of the seminar, Professor Zhuang issued Dr. Mao a memorial plaque, "TSINGHUA GLOBAL VISION LECTURES No.170th".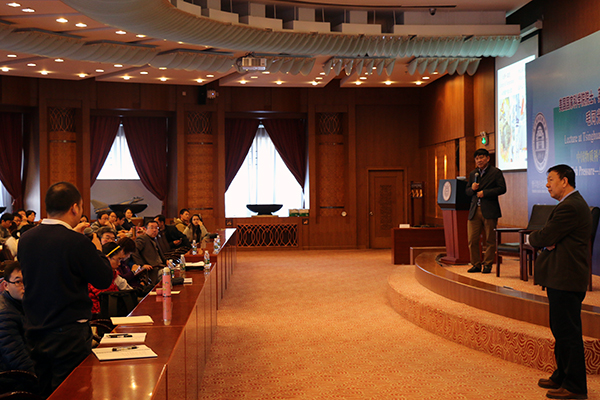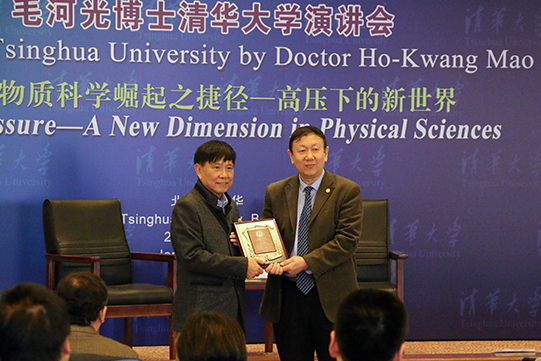 In the visit, the assistant principal of Tsinghua University, Dr. Yigong Shi, also met with Dr. Mao. Prof. Bin Liu, Prof. Zhuo Zhuang and vice director of the International Office Qingmei Yang joined the meeting.
(Article and photos provided by Dr. Haiyan Zheng)