北京高压科学研究中心


Center for High Pressure Science &Technology Advanced Research
More stable perovskite solar cell treated by pressure - Drs. Qiangyang Hu and Wenge Yang
SEPTEMBER 9, 2016

---
As part of a team co-led by HPSTAR scientists Dr. Qingyang Hu and Dr. Wenge Yang recently conducted the first comparative study of a lead-free tin halide perovskite, CH3NH3SnI3, before and after high-pressure treatment up to 30 GPa at HPCAT. It became more stable after high-pressure treatment, with a three-fold increase in electrical conductivity and enhanced light absorption.

Perovskite solar cells (PSCs) based on hybrid lead-based organic-inorganic perovskites have caused quite a buzz in the solar energy world because they are relatively cheaper than traditional silicon-based solar cells, and their solar-to-electricity power conversion efficiencies have reached over 20% in only a few years.
"However, some challenges remain in perovskite photovoltaic materials, including the lack of fundamental understanding of the structure–property relationship, their relatively low structural stability, and the use of lead in the manufacturing process introduces environmental concerns", said Dr. Xujie Lü, the lead author of the paper.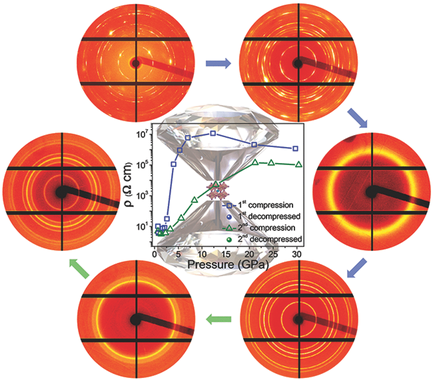 Using high-pressure to modify structural and physical properties, Dr. Lü and his co-workers recently carried out in situ structural, electrical conductivity, and photocurrent measurements on CH3NH3SnI3. It became amorphous during compression and recrystallized upon pressure release. Interestingly, the recovered sample exhibited increased electrical conductivity, while when the re-compressed perovskite sample remained crystalline up to 30 GPa.
"This discovery is unexpected to us", said Lü. "It is great that the sample is still crystalline because it means pressure make the sample more stable. We may use pressure to prepare much stiffer perovskite materials for solar cells in the future".
Compared to the original sample, the compressed CH3NH3SnI3 showed a three-fold increase in electrical conductivity and substantial photo responsiveness enhancement. This study could provide a crucial step towards the realization of low-cost, high-efficiency and environmentally friendly Perovskite solar cells.
Details of this work were recently published in Advanced Materials (DOI: 10.1002/adma.201600771).
Caption: Figure: Moving clockwise from top left, pressure cycling (purple arrows) of an organotin halide based perovskite solar cell leads to a conductivity increase of over 300% (center), and repeated pressure cycling (green arrows) demonstrates enhanced structural stability of the pressure-treated material, courtesy of Xujie Lü.