北京高压科学研究中心


Center for High Pressure Science &Technology Advanced Research
Pressure-induced emission in Cs4PbBr6- Drs. Xiaolei Feng and Simon A.T. Redfern
OCTOBER 31, 2018
New study from a team of scientists including Drs. Xiaolei Feng and Simon A.T. Redfern from HPSTAR utilized high-pressure technique to tune the optical properties of low-dimensional cesium lead halide perovskite They found that pressure make the no-fluorescent Cs4PbBr6 display remarkable emission. Their work is published in recent Nature Communications.
We know that hybride perovskites are promising solar cell candidate materials, which now has show an energy conversion of over 20%. Compared to the organometallic halide perovskite, the recent discovered inorganic perovskite shows considerably superior properties, especially, the better stability as organic parts are fairly easy to break down under heat or other stimulus.
Cs4PbBr6 is a typical zero-dimensional inorganic perovskite withi isolated octahedral component, which does not show fluorescence at normal environment. Thus how to improve its optical property is the focus of the present work.
Pressure as an efficient external stimulus as light, heat etc, has been successfully introduced in modifying the physical properties of functional or energetic materials in the past two decades. It has also been used effectively in three dimensional perovskites.
Thus the present research team of scientists is also trying to change the optical property of Cs4PbBr6 perovskite using the high-pressure method.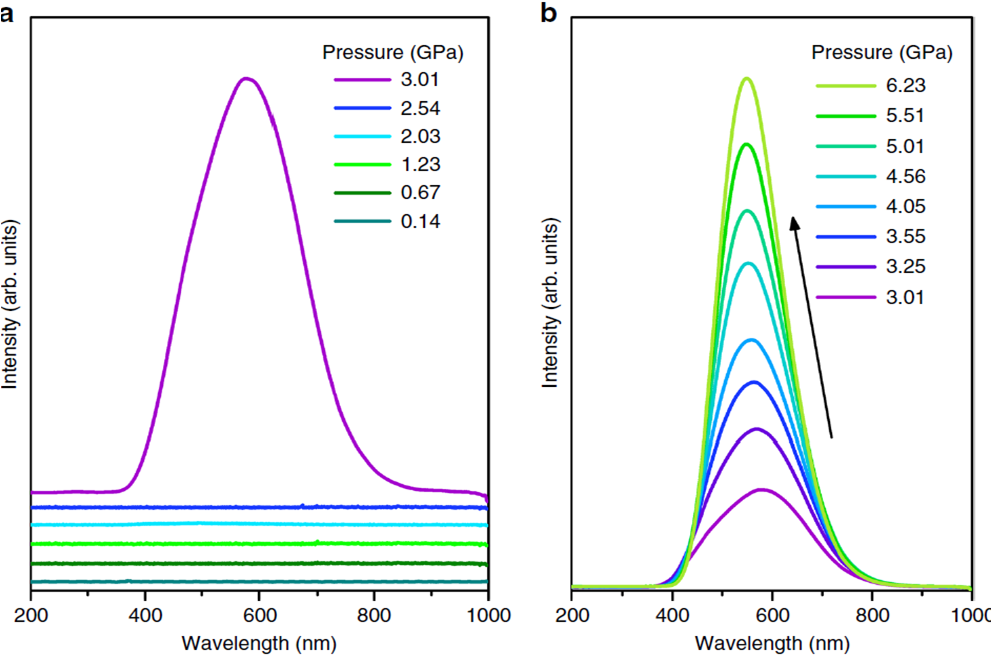 From in-situ high-pressure photo-luminescence measurement, they unexpectedly found that pressure make the no-fluorescent Cs4PbBr6 show unexpected emission around 3 gigapascals, and the emission intensity considerably increased upon further compression.
How does pressure make such conversion happen? "Our further in-situ high pressure x-ray diffraction measurement shew that pressure induced large distortions of the [PbBr6]4- octahedral motifs from a structural change", explained Dr. Xiaolei Feng. "This leads to the increasing of optical activity and binding energy of the so-called self-trapped excitons (electron-hole pair) and thus photoluminescence of Cs4PbBr6.
"Our study demonstrates that high pressure can be a robust tool to boost the photoluminescence efficiency upon overcoming the limitations of conventional synthetic chemistry", stated in the paper.
Caption: Pressure-dependent PL spectra of CsPbBr6.
---
Cs4PbBr6是一类典型的零维(其正八面体彼此孤立)全无机钙钛矿材料,。然而这种零钙钛矿纳米材料,在常温常压下并没有展现出领域可重复的荧光性质。北京高压科学研究中心的冯晓蕾博士,Simon A.T. Redfern教授参与的最新研究通过高压的手段使得Cs4PbBr6纳米钙钛矿的荧光从无到有,并逐渐增强。这是因为压力促使Cs4PbBr6钙钛矿发生晶体结构的相变,导致了八面体的扭曲,从而使得Cs4PbBr6纳米钙钛矿中的自陷激子(电子-空穴对)的光学活性增强并且结合能增大,从而使得Cs4PbBr6纳米钙钛矿出现了压力诱导的发光现象。