北京高压科学研究中心


Center for High Pressure Science &Technology Advanced Research
Pressure induced superconducting phases with carbon polymerisation in YC2 - Dr. Xiaolei Feng & Prof. Simon A.T. Redfern
NOVEMEBER 23, 2018
---
New study from a team of scientists co-led by Prof. Simon Redfern of University of Cambridge and HPSTAR using theoretical calculations to probe potential superconducting phases of yttrium dicarbide under high pressures. They found that yttrium dicarbide displayed four new structures under compression with varying carbon polymerization, carbon dimer, four-member chains, single chains, double chains and eventually to sheet structure. Their additional calculations show that the high-pressure phases are superconducting. The work is published on Communications Chemistry.

Pressure has powerful effects on the physical and chemical properties of materials through changing the crystal and electronic structures of them. For example, insulator can become metallic and metal turns to superconductor under compression.
High-pressure method also made the recent discovery of high temperature superconductor in yttrium hydrides. These make scientists to explore other potential superconductors in yttrium-based materials using high-pressure method.
Among the yttrium based compounds, CaC2 structured yttrium dicarbide—YC2 is the team's focus. The team led by Prof. Simon Redfern of University of Cambridge and HPSTAR, and Profs. Hanyu Liu & Yanming Ma of Jilin University utlizing first-principles electronic structure predictions and calculations to study the crystal and electronic structural evolutions of YC2 under extreme pressure up to 300 GPa.
"Theoretical predictions played very important role in the discovery of new superconductors/ superconducting phase", said Dr. Xiaolei Feng, the lead author of the study "For example, the discoveries of recent high temperature superconductors—H-S and YH10 were both firstly discovered from theory predictions, and then were experimentally synthesized".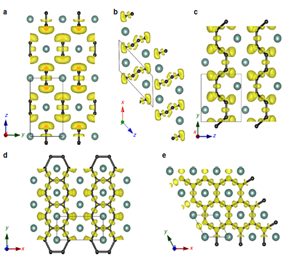 Here the new study shows that YC2 formed a series of new stable structures under compressions.
Upon compression, the carbon atoms first form one-dimensional (1D) chains and then double chains, and finally two-dimensional (2D) graphene sheets separated by Y atomic layers. Their phonon calculations show that these YC2 structures are also dynamically stable. "This means that we can experimentally synthesized these phases", Dr. Xiaolei Feng added.
Their further electron–phonon coupling calculation demonstrates that YC2 is a good electron–phonon superconductor with a superconducting critical temperature of 2.9 K at 300 GPa.
"Our results reveal the role of pressure on modifying the carbon polymerization within this carbide, in particular in the gradual increase of carbon-carbon connectivity with pressure", said Prof. Redfern. "The YC2 system provides an unusual example of superconductivity in graphite/graphene C intercalated with metals".
The team also includes Siyu Lu of Zhengzhou University, Chris J. Pickard of University of Cambridge and Tokyou University.
Caption: Calculated electron localisation functions. a I4/mmm (YC2-I) at 0 GPa, b C2/m (YC2-II) at 0 GPa, c Pnma (YC2-III) at 50 GPa, d Immm (YC2-IV) at 200 GPa, and e P6/mmm (YC2-V) 300 GPa, with an isosurface of 0.75.
---
近日,北京高压科学研究中心与吉林大学,剑桥大学,郑州大学合作对钇基碳材料

—YC2

进行了高压下的晶体,及其电子结构方面的理论计算。基于第一性原理的

CALYPSO

结构预测方法,该团队首次提出

YC2

在高压下发生了一系列的晶体结构转变,并伴随碳原子的聚合,会呈现多样化的碳结构存在形式

—

常压下的二元碳原子伴随压力的增加首先聚合成链条形的碳,最后链条状的碳原子又进一步聚合成二维的片状碳。进一步的电声耦合计算揭示该

YC2

的高压相是潜在的超导体。他们的研究为提供实验合成新型超导体及其碳化物提供了知识储备。