北京高压科学研究中心


Center for High Pressure Science &Technology Advanced Research
Pressure-driven dimensional reduction of 2D Si - Dr. Yongjae Lee
DECEMBER27, 2018

---
New study from a group of scientists led by Dr. Yongjae Lee of HPSTAR/Yonsei University reported a pressure-driven dimensional reduction of 2D Si nanosheet into 1D nanowire. The unequivocal detection of high density 1D Si nanowires from the pressure-quenched X-ray amorphous phases establishes a novel synthesis process for materials with applications in solid-state electronics and photovoltaics technologies. This work is published online in recent Nature Communications.

Nanoscience has given the periodic table of chemical elements additional dimensions that permit the tailoring of physical and chemical properties by changing size and shape of particles with nanoscale dimensions. The control of dimensionality of nanoparticles confines nanoscale size in one (wires), two (sheets) or three (dots) dimensions leading to radically different optical, electronic, magnetic, catalytic and mechanical properties. This strategy also provides us a new path to make materials with specifically targeted properties as these can have multiple realizations in different chemical compounds allowing us to possibly avoid elements with low abundance, high cost or toxicity. The exploration of different allotropes of elements such as Si is of vital importance as it is an abundant, low-cost and non-toxic chemical element used in our daily lives and many industrial applications. Pressure is an often forgotten thermodynamic variable in structural explorations.
For two reasons X-rays are very convenient to monitor what is happening to materials at high pressures in diamond anvil cells: it can be done in-situ and there is very little material involved. However, an important drawback when characterizing structures of nanoparticles is that they are often 'X-ray amorphous' with no or few Bragg reflections, insufficient for standard crystallographic methods, and call for the modeling and refinement of pair-distribution functions which unfortunately cannot uniquely distinguish between different models.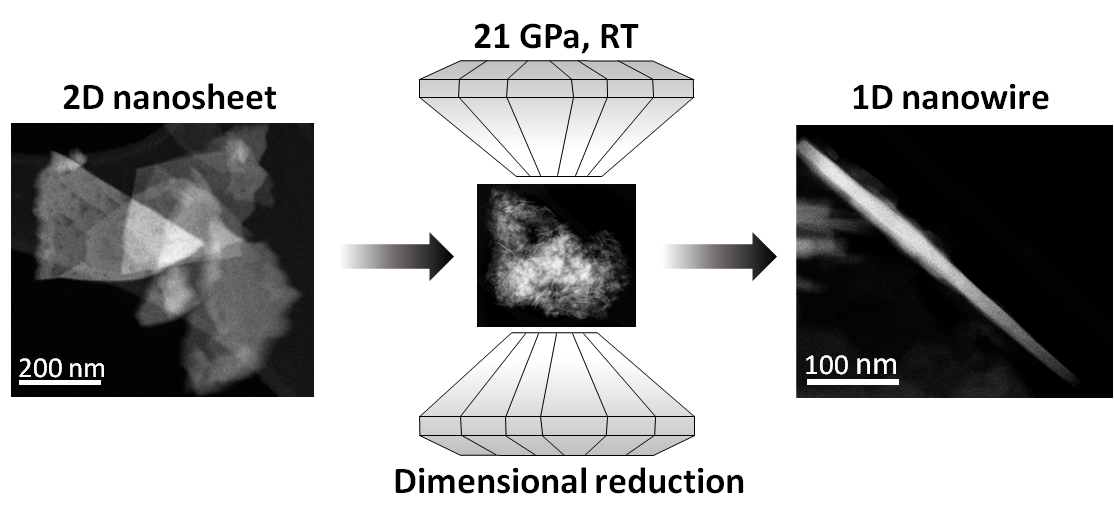 We explored what happens to 2D-nanosheets of Si up to pressures near 20 GPa by monitoring their X-ray diffraction pattern in a diamond anvil cell (DAC) and discovered that for particle sizes between 9 an15 nm when releasing the pressure below 8 GPa an X-ray amorphous phase appeared. The above mentioned approach to extract structural information using pair-distribution functions is not feasible due to the limited scattering range. We therefore chose to analyze the material found after opening the DAC using high angle annular dark field imaging in a scanning transmission electron microscope (HAADF-STEM). This technique allows us to image non-crystalline, highly disordered materials which only have short- or medium-range order. We found clear evidence that the recovered material is composed of 1D nanowires with aspect ratios > 10, which are twinned and have grown along the <111> direction. In the 2D starting materials with thicknesses less than 2 nm we observed edges of defects mainly oriented along <111>. This suggests that on pressure-release, instead of transforming back to either 2D Si nanosheets or the ambient bulk diamond structure it is energetically favorable to form 1D Si nanowires. The presence of nanowires was also corroborated by scanning tunneling microscopy imaging.
To our knowledge, this is the first observation of a reduction of dimensionality under pressure from a 2D sheet to a 1D wire in a material with diamond structure and begs the questions if the same occurs in 2D-sheets of structurally related compounds such as GaAs, InP or InAs.
This work is a result of multi-disciplinary and multi-analytical collaboration between geoscience (led by Prof. Yongjae Lee from HPSTAR/Yonsei University), material science (led by Prof. Heon-Jin Choi from Yonsei University), chemistry (led by Prof. Thomas Vogt from University of South Carolina), and physics (led by Prof. Yanming Ma from Jilin University).
Caption:Pressure induced 2D silicon sheet to 1D silicon wire.
---
同一种材料,维度的不同可以导致完全不同的光学,电学,磁性等等方面的性质。因此为了特殊的性能,科学家们需要改变或者控制材料的维度已达到某种应用。北京高压科学研究中心的Yongjae Lee研究员带领的研究小组发现压力可以降低纳米硅的维度。使用一系列的原位表征手段,他们发现纳米硅在高压下表现出依赖于晶粒尺寸及晶粒及形状的结构相变。对卸压后的样品进行原子力显微镜分析发现压力将二维的纳米硅变成了一维的硅纳米线—可应用于生物传感器用来检测金属离子,病毒等。因此该研究提出压力或许是获得一维材料的有效途径,可以尝试在同类结构二维GaAs,InP等中发现类似的压力诱导维度降低的现象。相关成果发表于最近的《自然-通讯》上。