北京高压科学研究中心


Center for High Pressure Science &Technology Advanced Research
Afu Lin named MSA Fellow 2015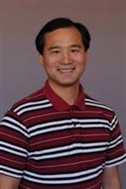 The Mineralogical Society of America (MSA) has selected Dr. Jung-Fu (Afu) Lin of DEEP group from HPSTAR as a Fellow. The fellowship is awarded to MSA members who have contributed significantly to the advancement of mineralogy, crystallography, geochemistry, petrology or allied sciences and whose scientific contribution used mineralogical studies or data are elected to the rank of Fellow. The number of fellows elected each year cannot exceed 0.5% of MSA membership.
The Society recognized Dr. Lin for frontier and grand research in mineral physics of the deep mantle (eg. spin state of iron related minerals), his outstanding contributions in earth science. Afu's research focuses on understanding the nature of the Earth's interior and other planetary bodies through direct examination of the properties of planetary materials under high pressure-temperature conditions.
Lin's research mainly uses high pressure-temperature diamond anvil cells combined with in-house optical laser and synchrotron-based X-ray facilities to understand mineral physic of the deep-Earth materials. Lin also collaborates with other scientists to explore materials properties under extreme environments, including superconductors, 2D materials etc. Lin has authored more than one hundred publications in a number of key scientific journals. He also received NSF-EAR Early Career Award in Geophysics/Petrology/Geochemistry.
"We are very proud of Afu's achievements as a mineral scientist," says HPSTAR Director Ho-Kwang Mao. "Lin has been a leader in the mineral sciences throughout his incredibly productive career. This honor is richly deserved."
Lin is also members of COMPRES; American Geophysical Union; American Institute of Physics; Honor Member of Phi Tao Phi Society, Taiwan.
Other MSA fellows newly elected in 2015 are Leonid Y. Aranovich, Wendy A. Bohrson, Maria Luce Frezzotti, Michael O. Garcia, Grant S. Henderson, Anhuai Lu, Suzanne A. McEnroe, Keith Daniel Putirka, Chrystele Sanloup, Michael Schindler, Robert P. Wintsch, and Chen Zhu.
-----------------------------------------------------
The Mineralogical Society of America was founded in 1919 for the advancement of mineralogy, crystallography, geochemistry, petrology and promotion of their uses in other sciences, industry and the arts. It encourages fundamental research in natural materials, supports the teaching of mineralogical concepts and procedures, and attempts to raise the scientific literacy of society for issues involving mineralogy. The Society encourages the preservation of mineral collections, displays, mineral localities, type minerals and scientific data. MSA represents the United States internationally for the science of mineralogy.